At last the moment I have been exited and anxious about had arrived: Penn's Dinner at Kuleto's!
With an AP test finished the day before I was relaxed and feeling happy now that I was done with all four of my AP tests I took over the past few weeks. I went to school and the day flew by, although it was a busy Thursday full of classwork. After school I hurried home to get ready for the dinner with each passing minute I grew more anxious and exited to have the experience of having dinner with the alumni from Penn.
It was nerve wracking because I
couldn't
believe how blessed I was to be able to have this experience. My friend Izabel went to Brown's Women & Leadership program last summer and had told me a lot of wonderful things about the dinner and the people she met.
When I got home I took a shower and got really my hands trembled from excitement as I tied my tie and calmed my hair. I haven't been this excited since my first day at breakthrough I said to myself. As I got ready I got lost in thought and before I knew it was time to leave. It was 4:45 pm and we still had not left because my mother had to talk to my two younger sisters before we left, we were running out of time because we were supposed to meet at 5:10pm and I wanted to be early. I drove to El Cerrito Plaza Bart and we made it on time with 10 minutes to spare once I got there I was so nervous I even forgot the parking was free. Thinking I was the last person to show up I ran to the Bart station and as soon as I saw Don and the others my anxiousness vanished and I was just extremely excited for the dinner. It was my first time meeting our chaperon and I instantly thought to myself awesome! This summer will be perfect!
As soon as everyone got to the Bart station we went on Bart. On our way to Kuleto's I sat down with Don and we talked about various thing from prom to AP tests. With the conversation I had with Don the time flew by and we were already at Powell Bart station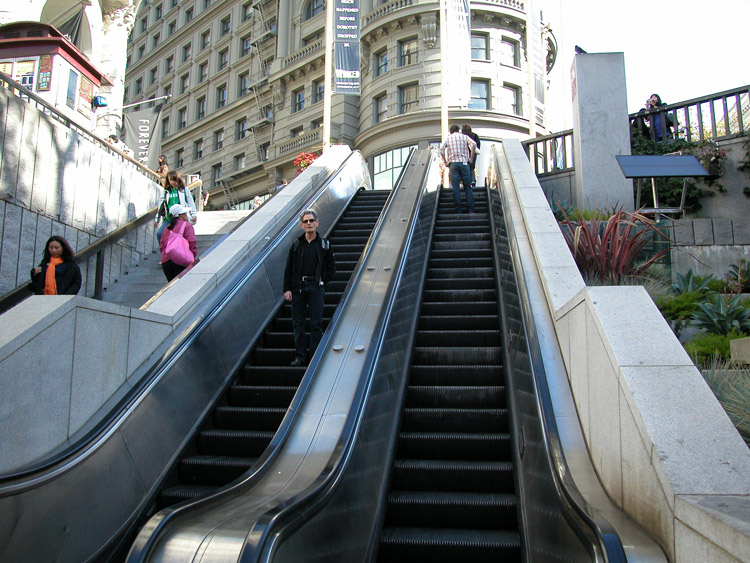 Powell Bart Station
We walked a slow paced walk due to the ladies having heels on and going up an intermediately steep hill. About four blocks up I hear "Were Here!" and my heart dropped! Many doubts and questions came to mind. What are the Alumni going to talk about? How well is our conversation going to flow? What should I do if everyone is quiet at my table? Can I really do this? We went in and the restaurant was really even swankier than I expected!
We walked in and went to a party room downstairs, the stairs were fancy and it was really cool to walk down. When we got in the room me and my mother met Mr. and Mrs. Rubin. They are both such wonderful kind people. It eased my mind to talk to them and meet them, my mother was happy that Mrs. Rubin spoke Spanish. When all the guest came in we all say on our assigned seats and talked to one another in our tables. Charley was the first alumni to sit down at our table so we introduced ourselves and talked about Penn. He told us that he was in the class of 2012. He talked about his personal life and how him himself got into U Penn by luck. He is the son of immigrants and he was at the top of his class at his high school, and when he got to Penn he went from being at the top to being about about average. I found this to be cool and a little bit scary, he talked about how he went from not knowing much about colleges and applying to most just because they were colleges to finding interest in Penn because of the fact that one of his friends who got accepted to Harvard chose Penn over Harvard.
Me translating what is being said to my Mom
Soon after that Markus arrived, I felt great admiration for the way he carried himself. He was polite, well mannered, quiet but talked a lot and stayed on topic when he was asked a question or was talked to. within 5 minutes after Markus arrived Mr. Powel arrived. It was a pleasure talking to him! He shared his story about education and about how when he was going through school it was very difficult and he had to be very focused and go out to find and obtain the resources he needed to continue furthering his education. It was very inspirational to be able to meet such a determined person who went through so much and against all odds and through education became successful.
Penn at Kuleto's Dinner Program
When everyone had arrived and had settled down the wonderful program planned for us took place. With wonderful speeches from Luis and Jun and the wonderful Ms. Kronenburg giving a warm welcome to all of us and closing remarks. after that we had an amazing dinner. we got to talk to the alumni and it was a wonderful experience and they were full of valuable information that I needed to better prepare myself for college. They covered topics from how a student is really accepted into colleges to how being in a food truck diet would be something very likely for me to do after freshman year, They talked to us about how clubs work and how to start them. They advised us to do research with a partner because that way it would be easier and more fruitful. The time flew by and before we knew it was part 9 pm and the dinner was over, We took a picture with the alumni and said goodbye.
Then we had a quick meeting with our chaperon to discus the fast approaching summer experience and we talked about how we were going to live for 3 weeks and about how we were going to leave a couple of days before the program began to be able to do a little more college exploring and watch the fireworks. I am more than exited for this summer and I cant wait. I also realize how fast the 3 weeks will fly by and am ready to face the fun challenge of the experimental physics summer program at Penn.
Lifelong Memory
With everything done we left to bart and to our regular lives as high school students. The next day it felt almost like a dream because the Kuleto's takeover was as amazing and wonderful as a dream.